Market Eatz | Fast, Casual Dining
3600 Sq feet of Fast Casual Dining, a specialty market, bar, & excitement! Serving burgers, tacos, bowls, specialty menu items, weekdays and brunch on Sundays! All menu items are original recipes, created just for Market Eatz using fresh ingredients, locally sourced when available & from scratch.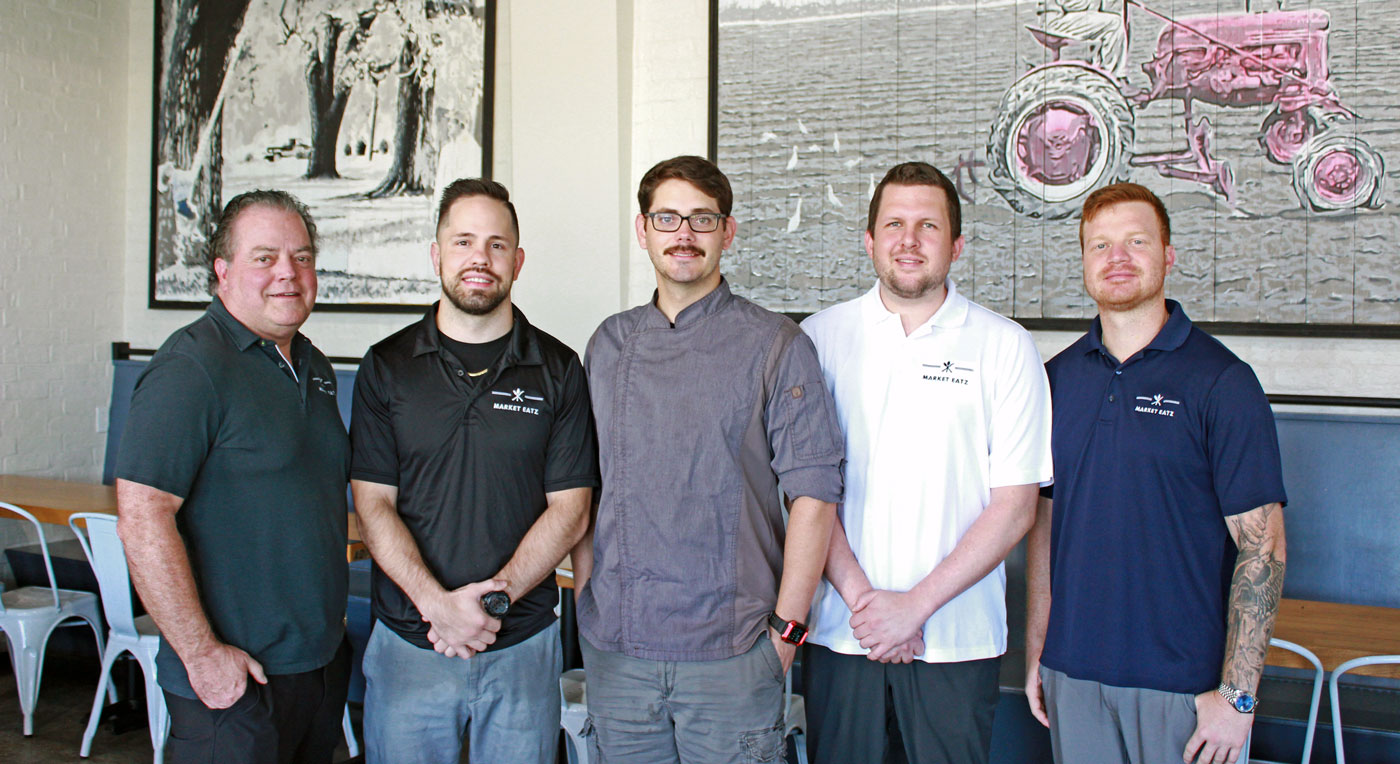 Meet Our Owner, Bryan McLain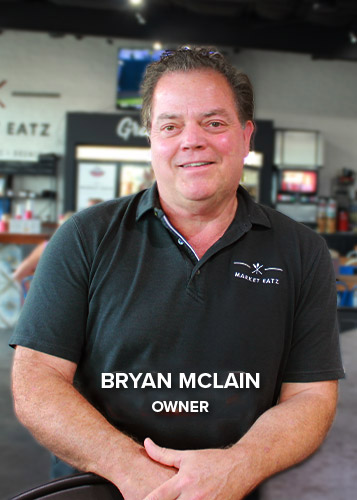 Bryan's expertise and passion for real estate has earned him a strong reputation for quality construction and beautiful developments. Vision combined with years of finance and business experience are the key elements to the diversity that make up the current holdings of McLain Companies. McLain has planned and completed seventeen family-village style neighborhoods. McLain Companies also works in the commercial side of Real Estate and owns McLain Market Place where Bryan's personal passion for food can be experienced at his successful, local favorite, restaurant known as Market Eatz. The McLain Family of businesses are longtime partners of St Jude Children's Research Hospital. McLain has provided lots for the St. Jude Dream Home project,designed and built the Acadiana (Lafayette LA) Dream Home since 2010. Bryan,his family and staff have raised over 13 million dollars for St Jude. He attributes his success to giving back and helping others.
Creating Market Eatz was a family effort. Bryan was the visionary behind the design of McLain Market Place and the Market Eatz concept. Bryan believes he has created a great restaurant with a fun, casual atmosphere and a unique vibe that is warm and welcoming to our clients.
Meet Our Owner & Operator Brandon McLain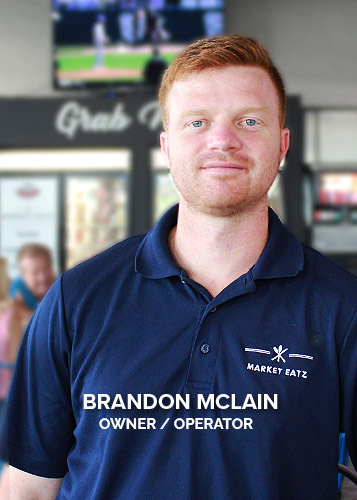 Meet Market Eatz's Owner/Operator Brandon McLain
A passion and palette for excellent food runs in the McLain family.
Brandon's appetite for duck empanadas as an after-school snack was surely a product of sampling his dad, Bryan McLain's, excellent recipes. Brandon's early exposure to gourmet foods would shape his career.
After several jobs in the service industry in Lafayette, he moved on to work in some of the most high-volume and sought-after restaurants in West Palm Beach, FL and Nantucket, MA.
Brandon knew that adding his customer service and operations experience to his dad's incredible flavor pairings, vision to combine ingredients, and ability to create a great menu would be a recipe for success.
After years on the east coast in various positions of the service industry, Brandon is excited for the opportunity to offer great food, service, and most of all to be back in Acadiana, his hometown, serving great food to his family and friends.
When Brandon's not working, you can find him on the golf course, basketball court, or spending time enjoying his big extended family in his dad's kitchen trying new foods, and recipes!
At the core of this restaurant is family. The McLain's work to make all their employees and guests feel warm, like family, and at home when they come to Market Eatz.
Meet Our Head of Operations, Brady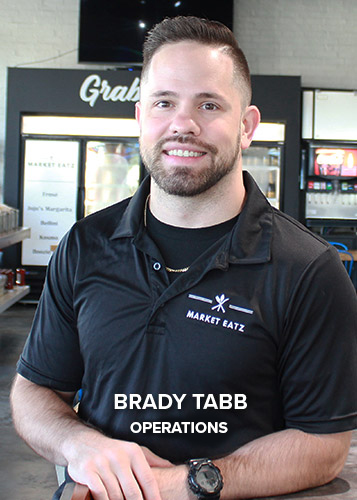 Our newest addition to the Market Eatz management team is Brady Tabb, whose 15+ years of experience in the restaurant industry have made him intrinsically valuable to the Market Eatz mission of bringing quality food and a comfortable, fun social environment to Lafayette.
Brady's journey in the restaurant industry started at Zea's Rotisserie and Bar, where he quickly rose from busser, to server and eventually to head bartender. It was during this time as head bartender for Zea's, making specialty cocktails and award-winning martinis, that Brady began to fall in love with the industry.
His passion for providing customers with delicious food, hand-crafted quality cocktails, and impeccable service was strengthened with experiences working at Judice Inn and Corner Bar Youngsville. It was here that Brady stepped into managerial roles and began to fully appreciate and better understand the value of family and close personal relationships within the industry. Brady embraced this concept fully when he began managing a local Walk-Ons, where he was able to share his experiences and wisdom with the staff there, ultimately producing managers for over 47 locations!
It was fate when Bryan McLain, one of Brady's first ever regulars at Zea's, contacted him about a managerial position available at Market Eatz. And the rest is history!
Brady brings a wealth of knowledge and expertise with him to Lafayette's fast-growing and unique new restaurant concept, Market Eatz, where no doubt his work ethic and deep history of the Lafayette food scene will only make the Market Eatz experience even better for the great people of Acadiana.
Outside of the restaurant scene, Brady can be found at cookouts and BBQs or whipping up some Cajun cuisine in his own kitchen. More than anything, however, Brady enjoys living a healthy, balanced lifestyle, working out, and spending time with friends and family—most importantly his two baby girls, Taytum and Laikyn, who are Brady's world.
Meet Our Assistant Manager, Austin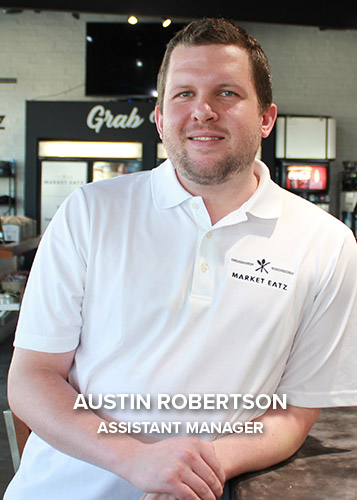 Austin was born and raised in Lafayette, where he grew up playing baseball and ice hockey, but mostly enjoying Cajun food, festivals, and music.
His career in the Service Industry started when he was just 13, where he worked as a busser the City Club Restaurant at River Ranch, before moving to the Blue Dog Café where he spent 9 years. It was there he learned all about the operations of a high volume restaurant; from bartending, food service, and managing each aspect of the restaurant business.
When Market Eatz offered Austin a Bartender position, it was a very easy decision, and one that he has enjoyed every day since. He knew even then that Market Eatz would become one the best restaurants in Lafayette, and he's loved being apart of the ride thus far!
Austin now serves as Assistant Manager and loves working with Brandon McLain, a lifelong friend. Austin's passion is interacting with customers to ensure an exceptional experience for all, and helping further employee development at Market Eatz.
On his time off, Austin can be found spending time with friends and family, practicing the art of Louisiana barbeque with his dad, and watching any and all sports. When you arrive at Market Eatz, don't forget to look Austin up and say Hello!
Meet Our Head Chef, Jimmy Connell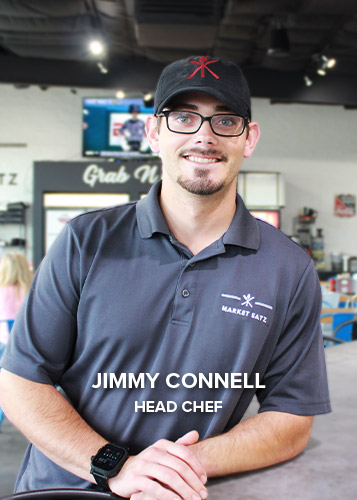 Jimmy was born and raised in Lafayette, LA, where like most locals he grew up in a Cajun family with a deep-rooted passion for food.
While Jimmy's culinary interest began at a young age, his decision to pursue his passion for cuisine came during his time working as an athletic trainer and team manager for the Ragin Cajun football team. He then went on to earn a degree in Culinary Arts from South Louisiana Community College.
His culinary career began with the Olde Tyme Grocery family of restaurants where he started as a po'boy craftsman and later moved on to Kitchen Manager and Operations Manager. He also spent time as a Line Chef at Copeland's Batch 13, and a Lead Chef at Bailey's Seafood and Grill.
Jimmy has a passion for creating exceptional food experiences and getting his team excited about making amazing food for family and friends. When he's not in the kitchen perfecting his next noteworthy dish, Jimmy can be found spending time with his dog Sabbath and exploring the unique flavors of local craft beers.